About Bloglovin - Acerca do Bloglovin
There's a new and brilliant social media tool in the internet.
It's called Bloglovin and it's a valuable place where
we can gather our favorite blogs.
For me, it's the most useful way
not to loose any post from the blogs that I follow.

We can classify all the blogs into categories, we can only see
the post first lines and the main photo or we can just search for the
most popular blogs in a list of categories.
****
Há uma nova e brilhante ferramenta na internet para
juntar os nossos blogs preferidos, chama-se
Bloglovin
.
Para mim, é a maneira mais útil de não perder nenhum
post dos blogs que gosto de seguir.
Podemos classificar todos os blogs em categorias,
podemos ver apenas as primeiras linhas e a principal
fotografia de um blog ou podemos apenas
procurar os blogs mais populares dentro de
uma lista de categorias.
Para seguir o meu blog, e só seguir o link: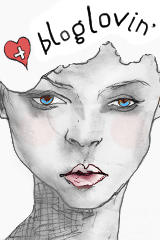 Follow my blog with Bloglovin ** Segue o meu blog no Bloglovin